Jul 18 2009
Unlike the other games Aion has decided to let you improve not just your characters, but also your armour sets. That can actually be seen in the physical appearance of your character. These screenshots will give you a quick sneak peek at some of the stunning armour sets you can expect to see in Aion. Before we start, it may be worth pointing out that there are far more armour sets available throughout the game than the few we will be showing you here in this article.
Aion Armour Sets Basic Information
There are four types of armour by material
Clothing
Leather
Chain mail
Plate mail
Clothes – lowest physical defend and highest magic defend, with additional attribute,  so it fits Sorcerer and Spiritmaster
Leather Armor – normal physical/magic dedend, but good at dodge, so it fits Assassin and Ranger
Chain Mail – normal physical/magic dedend, with additional attribute, it fits Cleric and Chanter
Plate Mail – Lowest magic defend and highest phycical defend, it fits Gladiator and Templar.
Abyss Armours – Earn only by collecting Abyss Points: Abyss Robe, Abyss Leather, Abyss Chain Mail, Abyss Plate, Abyss Shields
You can place different enchantments on the armour with the use of enchantment stones . Each piece of armor receives a different amount of enchantments increase depending on the type of material it is composed of. A failure on an item that does not already have an enchantment level will not cause it to have a negative enchantment, but you can reset all other enchantments.
Armours Rarity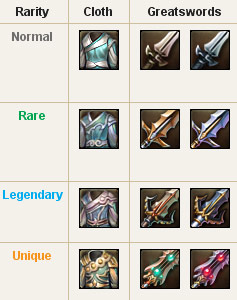 Rarity refers to an items difficulty to find as well as it's quality. The more rare an item is the higher quality it will be. When discovering an item that is rare, the color of it's name will indicate what type of rarity it is:
white–Normal: These are common items that can be found throughout the world. Vendors in some areas may carry some of these items.
green–Rare: Generally these items have extra or increased attributes. Contribution vendors sell various items of this grade.),
blue – Legendary: These items are hard to find and have even more or higher attribute values than Rare items.
orange: Unique: These items are the hardest to find and most expensive to purchase from Contribution vendors. However, they make up for it by having the highest attribute bonuses..
In addition to the name's color, the items icon will be a bit different depending on it's rarity.
[PSGallery=1h2gjkjw7s]
Sources:
mmorpg.com
deifo@youtube
powerwiki.com
Comments Off on Aion Armour Set Guide