Aug 05 2009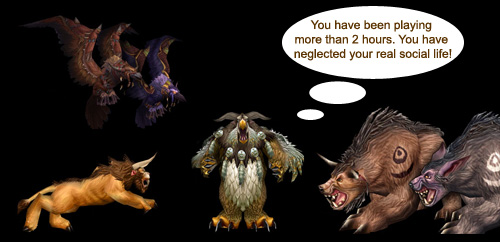 Although this title might sound to you like a joke, it's not. According to The Telegraph newspaper, addiction therapists are creating their own avatars in online fantasy games such as World of Warcraft in the hope of treating youngsters addicted to virtual worlds.
With a little help from therapists, to youngsters who are spending too much time playing the game and have lost touch with the real world, will be stressed the detriment of their social lives and education. A recent report by Sweden's Youth Care Foundation described World of Warcraft as "more addictive than crack cocaine".


This project will be launched by the end of the year. The psychiatrists will have to stay within the parameters of the game. They certainly wouldn't be wandering around the game in white coats and would have to use the same characters available to other players.
One solution proposed by Dr Graham is recruiting existing players to act as "peer mentors" for other users of the game. He said that internet addiction was very difficult to identify, as the isolation involved meant sufferers were often out of sight and out of mind.
Blizzard Entertainment was unavailable for comment at the time of publication.
Comments Off on Addiction therapists for World of Warcraft