Apr 21 2009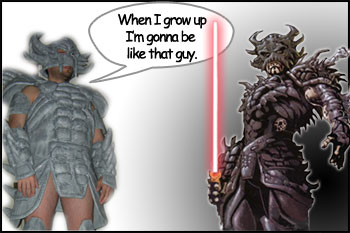 A week went by and no news was released by Bioware (except a minor update to the official forums with new avatars – read more here). Being the only source of really new stuff concerning the game and spoiling us by regular updates in the past weeks, Bioware outraged me with their silence, so I went browsing for other things to write about and ended up reading any other SW:TOR related happenings I could find. Enter fan sites *drumroll*. For a game not even in beta there is an amazing number of web sites, blogs, podcasts and similar shenanigans trying to attract the community's attention. And the community is blossoming. The official forums have loads of threads and are more active than some live and long running MMORPGs out there (LotRO EU for example).
The opening piece of news is a gem in oh so many ways. At the official forums there's the "Other Fan creations" section. I came across a post entitled "Darth Krayt!" (to find out more about the character go here) and this is what I found:
I post here to ask for your remarks on this I made together with my wife in abount 8 months:
What followed is an image, but before that I want to make a couple of comments. The guy really worked hard on this and I admire his persistence and craftsmanship (both of which I lack). I am all for dressing up and going to conventions and whatnots, but I would wear something underneath the costume I spent 8 months building. The sight of this guy's hairy upper thighs just jumped right at me when I first opened this image. You were warned!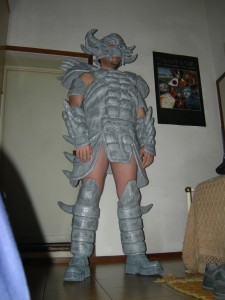 Apparently, there is a video of the costume in action at a SW con. I love the light saber man. Good job on wearing pants this time. Add color to the costume and you go on the cool wall :).
How do you follow up on something like this? How about two guys ranting about Star Wars and other gaming related news with a guest appearance by A(h)rnold Schwarzenegger? You don't believe me? Well, listen to the episode 4 of TOROcast at http://theoldrepublic-online.com/ and you'll know what I mean. This week Musco and SammMoney talked about Opening Tutorials, the crafting system (or lack there of), and a housing rant. I highly suggest you subscribe to their podcast to be notified of new episodes as soon as they get released. You can listen to the episode in the player provided below but show some love and visit their site :).
Last, but not least, I came across this neat looking feature at planetswtor.com called "the Monitor". It apparently collects tweets, mmorpg.com and other site feeds into one page full of swtor news from across the web. When you have a craving for information http://monitor.planetswtor.com/ is your destination (well beside our site of course :P).
That's it for now. No news week can be full of things to write about as you can see.
Comments Off on No SW:TOR news this week (and half dressed Sith)